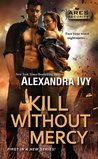 Kill Without Mercy
by
Alexandra Ivy
My rating:
4 of 5 stars
"Kill Without Mercy" by Alexandra Ivy presents readers with a simple sounding premise - a vet helps a woman deal with her past. But in reality, this book is anything but simple. The vet, Rafe Vargas, proves to be more than a man with a violent past. He's loyal to death to those who he cares about, but the flip side of that loyalty is a hatred of people who betray others. Rafe prefers to handle any situation alone, but he relies on his team with nary a complaint. He kills when he needs to, but he values life perhaps all the more because of those he had to kill. Rafe arrives in Newton, Iowa to clean out his grandfather's house, with the intention to get out of town as soon as possible.
The woman, Annie White, wants to be invisible. After a horrendous childhood, she wants to be anonymous to the media and to the general public. But she feels drawn to Newton, Iowa to finish... something. Her arrival unfortunately coincides with the start of a serial killer's sick game of kidnapping, torture, and death. Annie intuitively knows she is somehow a part of it all, but she doesn't know how.
Ms. Ivy combines these characters and takes readers on a twisted journey through the past and the present. As I read the novel, the beginning went generally as I expected - meeting the people, learning about what makes Annie and Rafe tick, watching Annie and Rafe circle each other as it becomes clearer and clearer that Annie needs Rafe's help... But then the novel diverges from familiar ground and heads into darker territory. I love when an author manages to take a simple plot and twist it into a complex web - and Ms. Ivy does this magnificently.
If you love a good story and don't mind a bit of darkness thrown in, I strongly recommend reading "Kill without Mercy".
Disclaimer: I received a free copy of this book from the publisher via NetGalley in exchange for an honest review.
View all my reviews